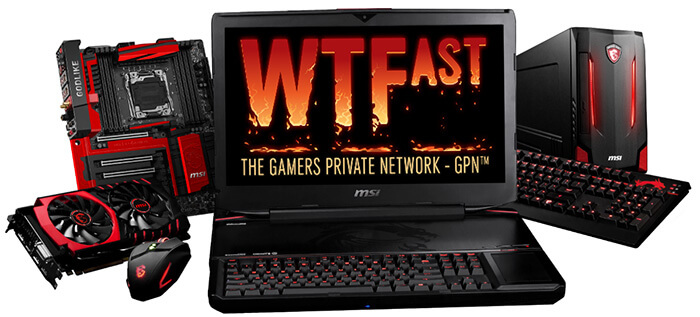 [MSI, HQ] MSI, somos líder mundial en hardware para juegos de gama alta, estamos asociados exclusivamente con el software WTFast de renombre mundial. Clientes y gamers consumidores de MSI que compren productos específicos y sean nuevos usuarios tendrán la versión de pago de WTFast durante dos meses gratuita. Los jugadores pueden ganar la ventaja en la batalla feroz de juego a través de la red exclusiva y optimizado.

WTFast Gamers Private Network (GPN) Actualmente es la mejor opción para el juego de batalla en línea optimizado para los Massively Multiplayer Online Role-Playing Game (MMORPG), como Starcraft, Final Fantasy y juegos Multiplayer Online Battle Arena (MOBA), como League of Legends, DOTA2, Heroes of the Storm ... etc. A través de la red global de más de 100 servidores, la red WTFast está diseñada exclusivamente para gaming, puede reducirse un 30 ~ 60% de la explosión Ping, 70 ~ 90% de la desviación de la velocidad y el 70 ~ 90% mala enrutador lúpulo a fin de aumentar la velocidad de la red y la calidad más allá de otros oponentes.

" Incluida la Killer network de alto rendimiento de MSI gaming equipos de perforación se ha afirmado unánimemente por todos los jugadores. Ahora, van a poder ejejcutarse con redoblada fuerza al llevar a la red de juegos patentada WTFast, liberando completamente el potencial infinito de los autétincos gamers '", dice Sam Chern, director de marketing global de MSI.

Para más información dirijase a: https://gaming.msi.com/promotion/wtfast